Our Neu Empowerment Model
Proactive interventions that enable and build resilience
In 2021, we conducted a comprehensive strategic review and changed our focus to be
more proactive and impactful to help raise an empowered new generation of children — one of
self-determination and unconstrained futures.

My NeuEducation
Ensuring proactive educational intervention
Sponsored Tuition
Aims to support the academic performance of students who do not have the financial means for additional help with their studies. This would allow students to get the support they need to pass their examinations, especially PSLE, O-level, and N-level examinations.
Bursary Awards
Aims to recognise the academic performance of students who have done well in their studies. This would imbue in them a sense of perseverance when faced with stress in school and resilience to bounce back to overcome obstacles.
Bookworm Programme
Aims to ensure that children aged 5-6 years old are able to reach their literacy development milestones in reading, speech, and other language skills. This is done through phonics using stories and songs.
Upgrade Cafe
Aims to provide focused attention to students who may need additional support in their studies.
Education Sponsorship
Aims to remove the financial barrier many students from low-income families encounter when pursuing tertiary education. Full financial support, mentoring, and opportunities to take part in prosocial youth activities are provided. Students may pursue their tertiary education at local and private institutions.
Junior Enrichment Programme
A partnership under the Care Network Children Support Programme (CNCSP) to support children aged 7-12 years old with reading, creative writing, and other subjects. It also comprises of non-academic components such as art, speech & drama, and team building games which aims to develop children holistically.
Bus Fund
Aims to reduce the financial expenses and stressors on families so that children can attend school and commute without worry.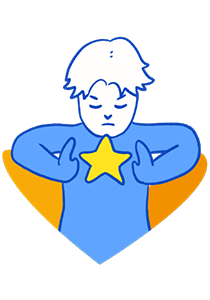 My NeuVoice
Empowering confidence, personal dignity and emotional uplift
Counselling
Qualified professionals providing children a safe and non-judgmental space to talk about their thoughts, feelings, and any issues that may hamper their well-being.
Youth Engagement Platform (YEP)
Provides an avenue for adolescents aged 15 to 21 years old to engage in prosocial activities with other positive influences. It also acts as a positive peer support system that adolescents feel safe and heard.
Mothers'/Caregivers' Support Group
Provides a safe space for those who have gone through similar experiences to form bonds with and to offer peer support to one another resulting in a strong community. Topics covered include coping with incarceration or an incarcerated spouse, parenting, and coping strategies.
Mentoring
Allows suitable volunteers to become role models who inspire, engage, and encourage adolescents to improve their self-esteem and confidence. Mentors and mentees may be paired on similar interests or industries.
Art Therapy
Uses art as a medium and the creative process to help children explore, express, and understand their feelings and emotions. It consists of multiple sessions where the art therapist curates their approach based on the circumstances of each child.
My NeuGrowth
Empowering confidence and sense of achievement
Tri-events
Workshops targeted at parents, youths, and children to develop themselves and improve familial relationships. Topics include mental health, communication, and parenting.
After-School Activity
Aims to allow children the opportunity to pursue interests in areas such as sports, music, art, and drama. Development in these non-academic areas will enable more holistic character-building in children.
Day Camps
Allows children and youths to develop their communication and self-confidence as well as in other areas such as leadership and personal development.
Ad Hoc Enrichment Workshops (for children)
Allows children to develop skills in a wide range of fields and interests. These include arts & crafts, photography, and coding.
Ad Hoc Enrichment Workshops (for families)
Allows families to explore and develop skills in niche areas such as craftpreneurship, photography, and baking. These can be helpful to broaden one's skillset which may be used to start a home business.
My NeuOhana
Rebuilding family bonds and a nurturing environment
Birthday Celebration
Allows families who may not have the means to celebrate their children's birthdays as these are important to their development and well-being. Cakes, gifts, and food are provided so that families can create happy memories with one another.
Milk & Diaper Sponsorship
Assists low-income families to reduce the financial cost of milk and diapers for infants and children so that their growth and nutritional needs are met.
Festive Celebration
Allows families who may not have the means to celebrate festive occasions with their families. Food and groceries are provided so that families can create happy memories with one another.
Family Day
An annual event that gives families an opportunity to spend quality time together engaging in family activities. Family Day has been held at the Singapore Zoo, Adventure Cove, and virtually as well.
Living Environment Assistance Project (LEAP)
Aims to improve the home environment for children and families so that they may have a safe space to study and reside in.
Televisit
Allows for greater convenience to communicate with their loved ones who are still in prison via scheduled video conferencing.